Obesity Specialist in Gurgaon
---
With the incidence of obesity issues in India rising to 32.3%, managing overweight and obesity problems is the need of the hour. Obesity concerns vary among individuals, affecting them irrespective of age, sex, and geographic conditions.
Obesity is when the body mass index of a person goes beyond 25. Regarded as a lifestyle disorder, obesity is a complex medical condition involving the accumulation of excess body fat in the body. It can increase the risk of associated conditions, including diabetes, heart ailments, high blood pressure, and certain cancer types.
Dr Hemi Soneja, an obesity specialist in Gurgaon, specialises in treating obesity and its associated medical conditions. She dedicates her time to educating and counselling patients on the need for healthy dietary practices and exercise while treating them by analysing the root cause of their condition.
Why Choose Dr Hemi as the best obesity specialist in Gurgaon?
---
A healthy diet and regular exercise are pivotal while battling obesity problems. Dr Hemi Soneja is a globally acclaimed specialist trained and certified by the renowned American Board of Obesity Medicine. She is also a Faculty at the University of South Wales, UK, for Diabetes & Obesity Medicine.
She patiently understands the nuances of obesity problems and caters to educating and counselling patients personally according to their lifestyle, occupation, and daily routine.
She provides holistic treatment options, including medications, diet plans, physical activity inclusion, surgical and non-surgical weight loss procedures. She gives the best weight loss program with focus on how to manage a healthy weight in the long-term.
Her clinic is well-established with world-class technology and equipment, ensuring you receive the best care and treatment at affordable prices. Last but not least, her patient-centric approach and science-backed treatment assure comprehensive care for obesity concerns.
Our Best Diabetes & Obesity Medicine Specialist Doctor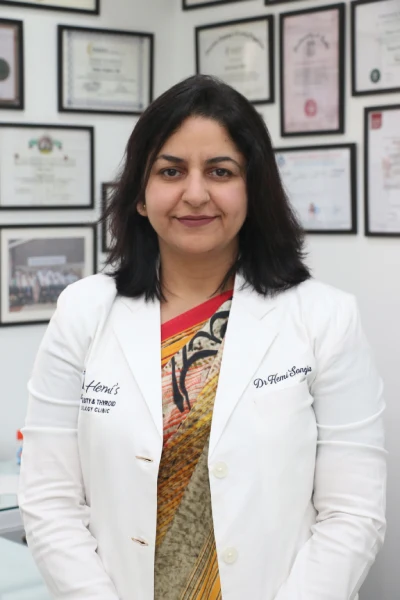 DR. Hemi Soneja
MBBS, DGO, Diplomate,
American Board of Family Medicine & Obesity Medicine Senior Consultant in Diabetes & Obesity Medicine

At Spandan Super Specialty Clinic
18+ years of experience
Appointment Schedule
09:0am - 02:00pm
Monday -Saturday

---
Directions | Book Appointment
---