Diabetes Specialist In Gurgaon
---
A renowned endocrinologist and diabetes doctor in Gurgaon, Dr. Hemi Soneja brings on a vast experience as a senior consultant at Spandan Super Speciality Clinic and Six sigma clinics.
She is an MBBS, DGO, and Diplomate, from the reputed American Board of Family Medicine. With over 18 years of experience, Dr. Hemi Soneja is one of the very few American board-certified diabetes and obesity specialists who has even worked as a consultant Physician and Obesity Medicine specialist at University Hospitals, Cleveland, USA.
She has pursued Family Medicine training from Guthrie Clinic, Pennsylvania, USA, and trained in Obesity Medicine with the American Board of Obesity Medicine (ABOM). She is also trained in Diabetes management from the USA and has completed a diploma in Diabetes & Endocrinology from Glamorgan University, UK.
With several research papers in National and International Journals to her credit, Dr. Hemi Soneja has clinical expertise in treating lifestyle conditions including PCOS, obesity, diabetes, and hyperprolactinemia.
Her prime motto is to provide holistic care for her patients seeking treatment for endocrine-related issues and weight disorders with a scientific and ethical approach to patient-centric treatment.
Different Options For Diabetes Treatment In Gurgaon
Every individual is different. And so will their diabetic condition. However, diabetes treatment is about maintaining optimum blood glucose levels and managing the symptoms. Here are some universally generalised treatment options for diabetes, depending on the type of diabetes.
Treatment options for people with Type 1 diabetes:
Type 1 diabetes, popularly called juvenile diabetes, mostly starts at an early age when the pancreas cannot produce insulin for glucose metabolism. Everyone with type 1 diabetes will need to manage their diabetes symptoms and maintain optimum blood glucose levels with insulin injectables or pumps.
Treatment options for people with Type 2 diabetes:
Type 2 diabetes is when the pancreatic cells can produce certain but low levels of insulin. Or the insulin produced is not efficiently taken in by the cells causing insulin resistance. In either case, type 2 diabetes can be managed by insulin medications, insulin injections, a diabetes-friendly diet, and an active lifestyle.
Dr. Hemi Soneja is the best diabetes doctor in Gurgaon who will guide you with the necessary and appropriate diabetes treatment options according to your diabetic condition.
How to prepare for a consultation with a diabetes doctor in Gurgaon?
A diabetes specialist in Gurgaon or elsewhere can be the best guide who can help manage and prevent diabetes. While you meet the best diabetes doctor in Gurgaon, here is a list of to-do things and tips on preparing for your consultation.
Carry your blood glucose reports and other medical reports.
Make a list of the questions you would want to ask your diabetes specialist, like-

What foods to eat and avoid to maintain blood glucose levels?
Will my diabetes affect other organs or cause other complications, such as high blood pressure?
How much and when to exercise?

Make sure to note and discuss all the symptoms you have noticed to make the best of your consultation.
Why is Dr. Hemi Soneja the best diabetes doctor in Gurgaon?
---
The prime aspect of treating metabolic disorders like diabetes, thyroid, PCOS, or obesity is proper diagnosis, management, and prevention of acute conditions.
In such aspects, consulting the best endocrinologist or diabetes doctor in Gurgaon is vital for the proper treatment and improving quality of life. In Gurgaon, Dr. Hemi Soneja is a prominent name renowned for treating diabetes and endocrine disorders.
Here are some of her trump features as to why you need to consult Dr. Hemis Soneja for your endocrine concerns.
Internationally trained specialist
She is among the few specialists who have gained training from the renowned American Board of Obesity Medicine and the American Board of Family Medicine. She also holds a diploma in Diabetes & Endocrinology from Glamorgan University, UK. She has worked as a consultant at University Hospitals, USA.
Comprehensive treatment approach
She offers personalised treatment through a comprehensive evaluation protocol while paying attention to detail, analysing the symptoms, and finding the root cause to devise a proper treatment according to the patient's condition and requirements.
Ensures staff training
She ensures that the staff at her clinic are professionally trained to assist her and guide the patient towards a healthier life.
State-of-the-art Infrastructure
Dr. Hemi Soneja's clinic is well-equipped with the latest technology. She ensures that her patient experiences a patient-friendly ambiance and novel technological facilities at her clinic.
Cost-effective treatment
Diabetes and other chronic conditions can hit any household. Expensive treatment and tests are prescribed only if necessary. Doctors and staff at Dr. Hemi Soneja's clinic focus on early diagnosis and transparent treatment to prevent possible complications and help patients make informed decisions.
Our Best Diabetes & Obesity Medicine Specialist Doctor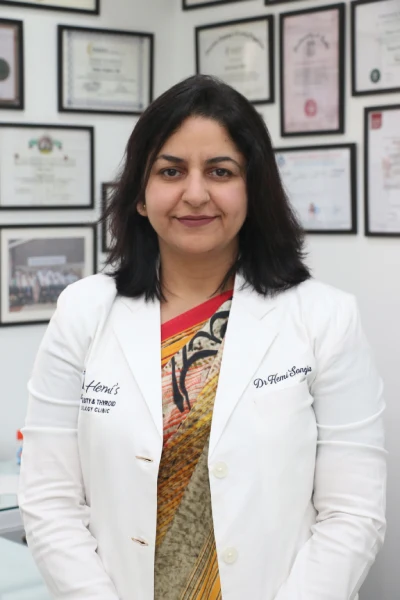 DR. Hemi Soneja
MBBS, DGO, Diplomate,
American Board of Family Medicine & Obesity Medicine Senior Consultant in Diabetes & Obesity Medicine

At Spandan Super Specialty Clinic
18+ years of experience
Appointment Schedule
09:0am - 02:00pm
Monday -Saturday

---
Directions | Book Appointment
---